About iCapital
About iCapital
Quick business loans & other financing products done better
We are one of the oldest and most reputable online lenders for in Canada. We've funded hundreds of individuals and small businesses from Nanaimo to St. John's. Our funding options are perfect for people looking to avoid the lengthy paperwork at traditional banks, and for those in industries banks don't lend to, or with less-than-perfect credit scores.

Because we're the source of lending—not a broker—we're able to approve applications very quickly. Since opening in 2007, our modus operandi has been providing customers the best service and helping them thrive. Which is why we've been named "Best in Canada, 2020" by Smarter Loans: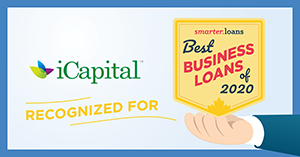 Unmatched Security
Rest easy with unmatched security
iCapital is the only funder of our kind in Canada handling clients' money through a Schedule 1 Canadian chartered bank, DC Bank. DC Bank is regulated by the Office of the Superintendent of Financial Institutions and is a member of the Canadian Deposit Insurance Corporation. Our customers rate this security and the 24/7 online access to their accounts as some of the best features of the iCapital service. This strategic partnership gives you:
A highly secure account and banking portal to protect you from hackers.
Bank-level accuracy in deposits and reporting.
Protection against unauthorized people accessing your bank account.
A 100% automated process to eliminate human error.
Insurance on your deposits up to $100,000.
7-point promise
7-point promise to customers
You have enough on your plate without adding the stress of financing. That's why we are focused on reducing the stress of getting money for Canadians. From the application process to the support you get from our team, our focus is on giving you a great customer experience.
Here are the seven ways we serve you better:
Application
There are only three clear, easy steps to receiving the money in your account. We're made it as easy as possible for you, our customer.
Responsiveness
Your business is not 9-5, so ours isn't either. We respond quickly to your calls and emails 364 days a year (on Dec 25, you'll find us having turkey dinner with our families).
Care
Your assigned customer care representative knows you and your business. If you need something, just ask!
Knowledge
Our team has great practical knowledge that we happily share with our customers. Within our team we have experts in human resources, accounting, finance and operations, and they share tips and best practices in our e-newsletters.
Security
Your automated repayments are managed by a Canadian chartered bank. Thanks to our partnership with Alberta-based DC Bank, we're able to offer you the best of two worlds: the high security of a bank with extraordinary customer care of a private company.
Access
You have 24-hour access to your transaction history on the online customer portal. The portal is easy to use and allows you to export and print your statements.
Responsible
We have a strict policy that we will never over-extend any business by funding them an amount so high it could put the business in peril.
Giving back to Canadians
Giving back to Canadians
Partners
Partners
Supported by a network of Canadian partners